Featured technology
Renewable energy
Who we're helping
The Garamba community
Our role
Aligned private and public resources into a coalition of dedicated partners to help advance energy equity
Garamba National Park's 2,000 square miles of savanna grasslands are rich with biodiversity. A UNESCO World Heritage site located in the northeast corner of the Democratic Republic of Congo, Garamba is a refuge for the world's largest, and rapidly diminishing, population of elephants and the last remaining Kordofan giraffes. And the area surrounding the park is home to a substantial amount of gold. What should be a picturesque tourist destination has instead been the frontline of a decades-long conflict that sits at the intersection of conservation, economic development, and artisanal mining.
Limited access to economic opportunities in Garamba's neighboring towns has resulted in an over-reliance on the park's natural resources. Garamba is close to Africa's largest commercial gold mine. And where there is commercial mining, artisanal miners follow. Many of the nearby artisanal mining operations have spilled over into the protected hunting domains surrounding the park, further endangering the region's unique biodiversity.
Recent population influxes in the area compound the problem. As residents of smaller villages migrate to more populated areas for the security and job opportunities artisanal mining offers, the strain on limited resources intensifies. The park also is struggling to combat poachers and armed groups involved in the ivory trade that threaten the park's wildlife, staff, and bordering communities. These conservation issues have prompted Garamba park management to seek additional protective support.
"Protecting the park and the surrounding hunting domains is essential to preserve the area's extraordinary biodiversity—the giraffes, the forest and savanna elephants, the chimpanzees," says Thierry Normand, Garamba's sustainable development director. "To reduce the communities' dependence on the ecosystem's natural resources, we work to establish sustainable socioeconomic solutions that support continued community development. That's what brought us to partner with Congo Power."
At Google, part of our work to responsibly source minerals includes taking proactive steps to manage the social and environmental impacts of the extraction of raw minerals for our products and to maximize our reuse of finite resources. In 2018 we partnered with non-profit GivePower to expand the Congo Power program, our leading initiative to support responsible minerals work. The program is based on the paradigm that access to renewable energy drives sustainable social and economic development. By aligning private and public resources into a coalition of dedicated partners, we can widen our impact to advance energy equity.
After successfully completing eight community power projects, delivering power to more than 9,000 people in the Congo, we continued to expand the initiative in 2021 to provide Garamba with the support it was looking for.
Energizing a community
Garamba park management recognized that the main threat to conservation was a lack of sustainable economic opportunities. To seed independent entrepreneurship beyond the raw minerals and ivory trades, the surrounding communities needed access to clean, reliable power.
Setting the project in motion, the park partnered with Nuru, a community-based solar developer.
As Baraka Kasali, Google's Social Impact program manager, explains, "The genesis of this project was figuring out how the park could—in a cost-effective, climate-smart manner—invest appropriate energy assets into the community."
The project concentrated on establishing sustainable energy infrastructure to support the rural communities that directly border Garamba National Park, beginning with Tadu and Faradje. In June 2021, backed by support from the Congo Power program, Nuru deployed two solar-hybrid minigrids—one 122.6 kilowatt peak site in Tadu and one 215.1 kilowatt peak site in Faradje.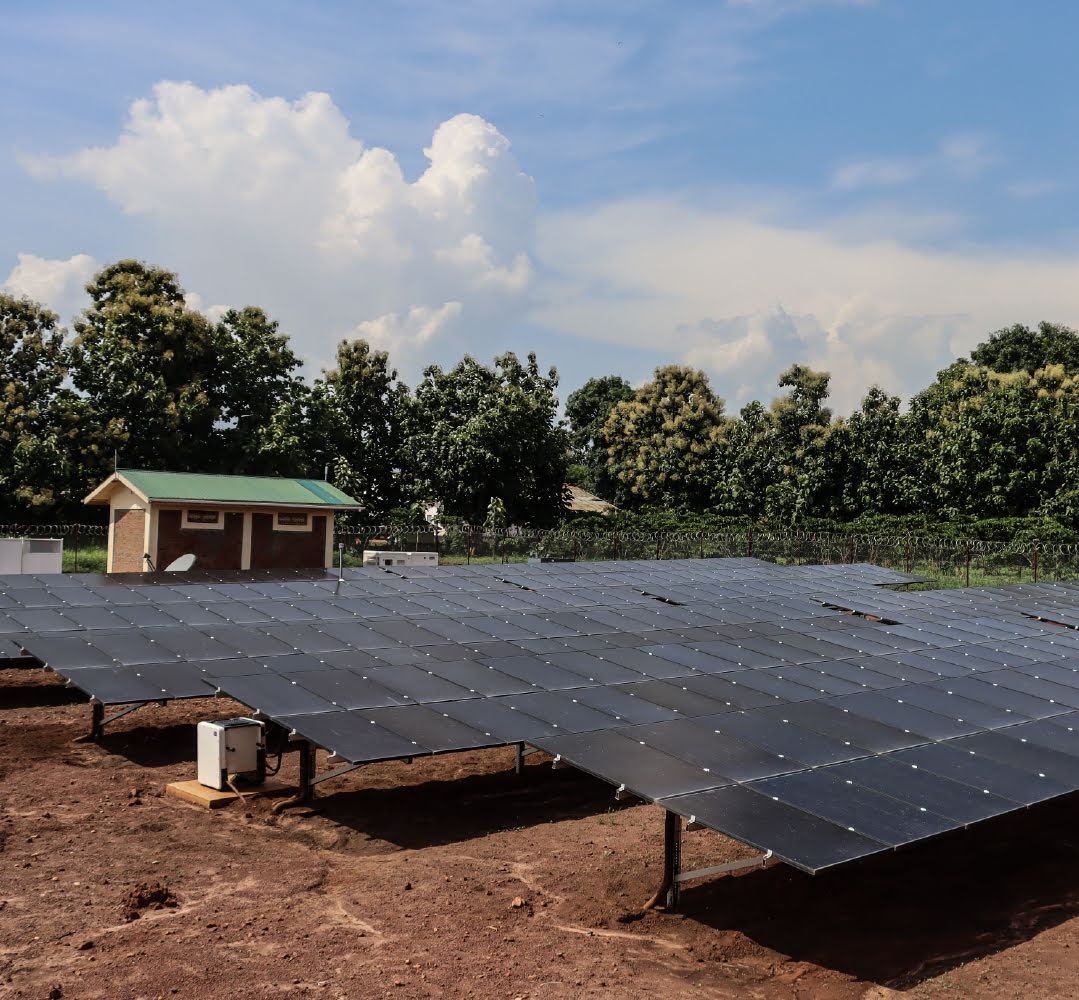 Beyond enabling access to energy, Nuru builds and operates the infrastructure to sustain long-term development.
"A lot of people talk about energy access rates," says Kyle Hamilton, Nuru's senior manager of strategy and partnerships. "Energy access is important, but it's an insufficient metric. It only tells you a yes or no. Do you have access? Do you not? What Nuru is doing is building market-making infrastructure that can produce the conditions for long-term stability. In Garamba, we're creating and enabling an environment for urban planning, entrepreneurship, and fostering new investment in these communities."
Since the project's launch, the solar grids have successfully enabled hundreds of electrical connections that now serve more than 320 businesses, households, and other social institutions, totaling more than 3,800 direct beneficiaries.
Incentivizing long-term peace
Google provided funding to support this work in part by purchasing Peace Renewable Energy Credits (P-RECs)—an innovative alternative to traditional energy credits, founded on a humanitarian intent. Developed by Energy Peace Partners, P-RECs offer businesses an entry point to help fund renewable energy projects that support peace-building efforts in conflict-affected parts of the world. Google's involvement marks the second P-REC purchase to date and is part of our ongoing work to steward social and environmental responsibility.
"These RECs are different," says Alyssa Newman, Google's program manager for Responsible Materials and Inclusion. "They not only help contribute to project capital for Congolese companies like Nuru, but also bring additional focus from private sector companies that are looking to address energy justice, reduce conflict, and reinforce responsible supply chains."
Unlocking opportunities for change
Reliable access to renewable energy continues to spark social, economic, and environmental growth throughout Tadu, Faradje, and the surrounding region. The solar minigrid development process alone has employed 114 full-time employees in these communities and the minigrids continue to provide new livelihoods and economic opportunities that don't draw on Garamba's natural resources.
Dependable power has equipped health care institutions with the necessary resources to deliver critical health services to more than 1,200 patients each month. With 24-hour facilities, improved vaccine storage, and essential medical provisions, hospitals and clinics now can keep their lights on and their communities healthy.
Throughout the villages, new public lighting installed by Nuru has enhanced accessibility and commerce, especially for Congolese women. Illuminated streets improve nighttime security. Businesses no longer depend on daylight and can extend their hours of operation. As a result of feeling safer at night, neighbors have easier access to one another, which creates new opportunities to collaborate and collectively build a stronger, more resilient community.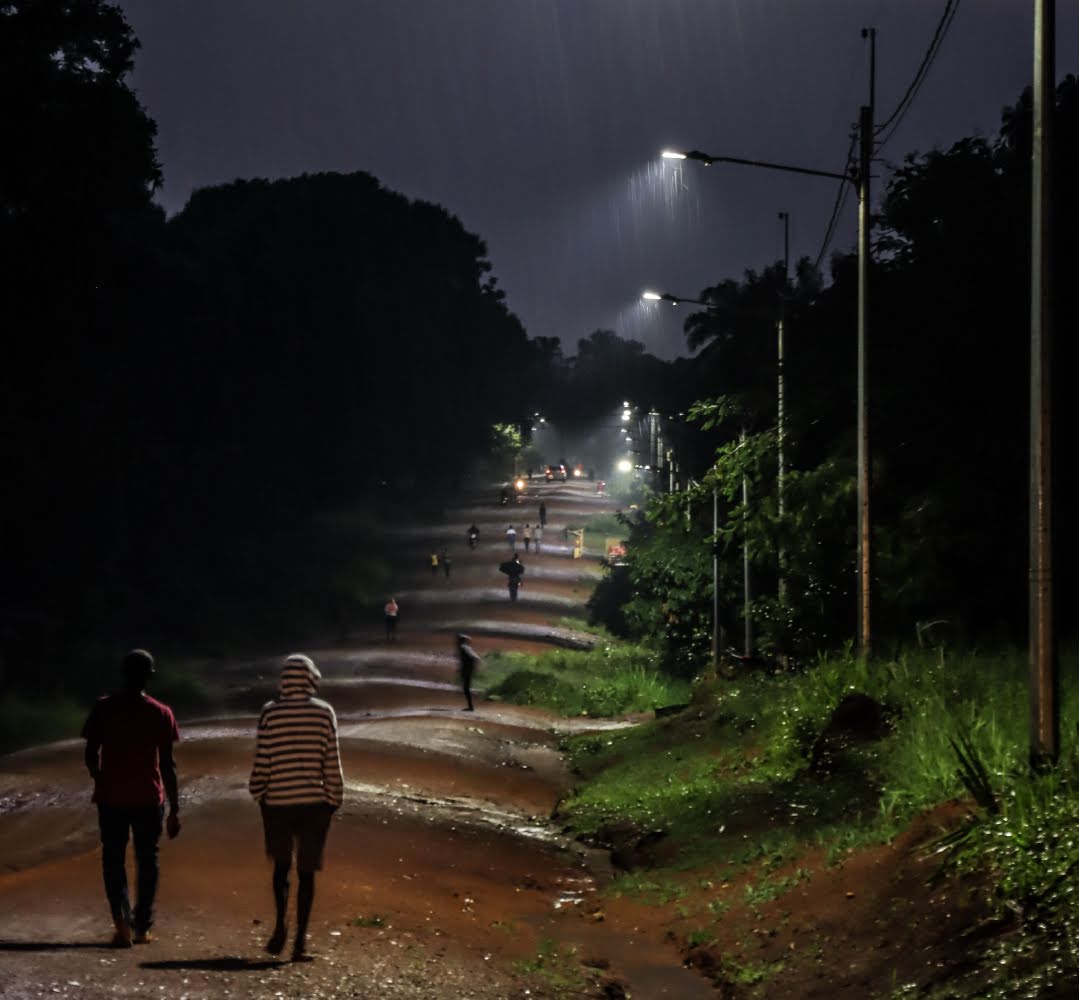 At the household level, the minigrids provide electricity for needs such as lighting, refrigeration, and power to charge phones and stay connected—essential for fundamentally improving quality of life.
On a larger scale, by displacing the communities' prior dependence on expensive and dirty power sources, such as diesel or charcoal, the grids' clean energy supply will avoid up to 280 metric tons of carbon dioxide emissions annually.
"There's so much opportunity," Hamilton emphasizes. "So much creativity that can be unlocked by having energy access. And we're so thrilled when we can see people starting new things."
Pursuing energy justice at scale
As we continue to evolve the Congo Power alliance, we bring the learnings from our pilots into our ongoing work to foster energy justice and sustainability at scale. Nuru's solar grids in Tadu and Faradje recently won the Africa Solar Industry Association's Mini-grid Solar Project of the Year—the industry's premier award to recognize and celebrate exceptional talent and achievements in the African solar market. With support from Nuru, Garamba National Park will continue to build on this success, extending its efforts to other communities around the park.
Recognizing the immense impact that energy equity has on conservation, economic development, and public health, we'll continue to focus our efforts on supporting projects that will help build flourishing and thriving communities.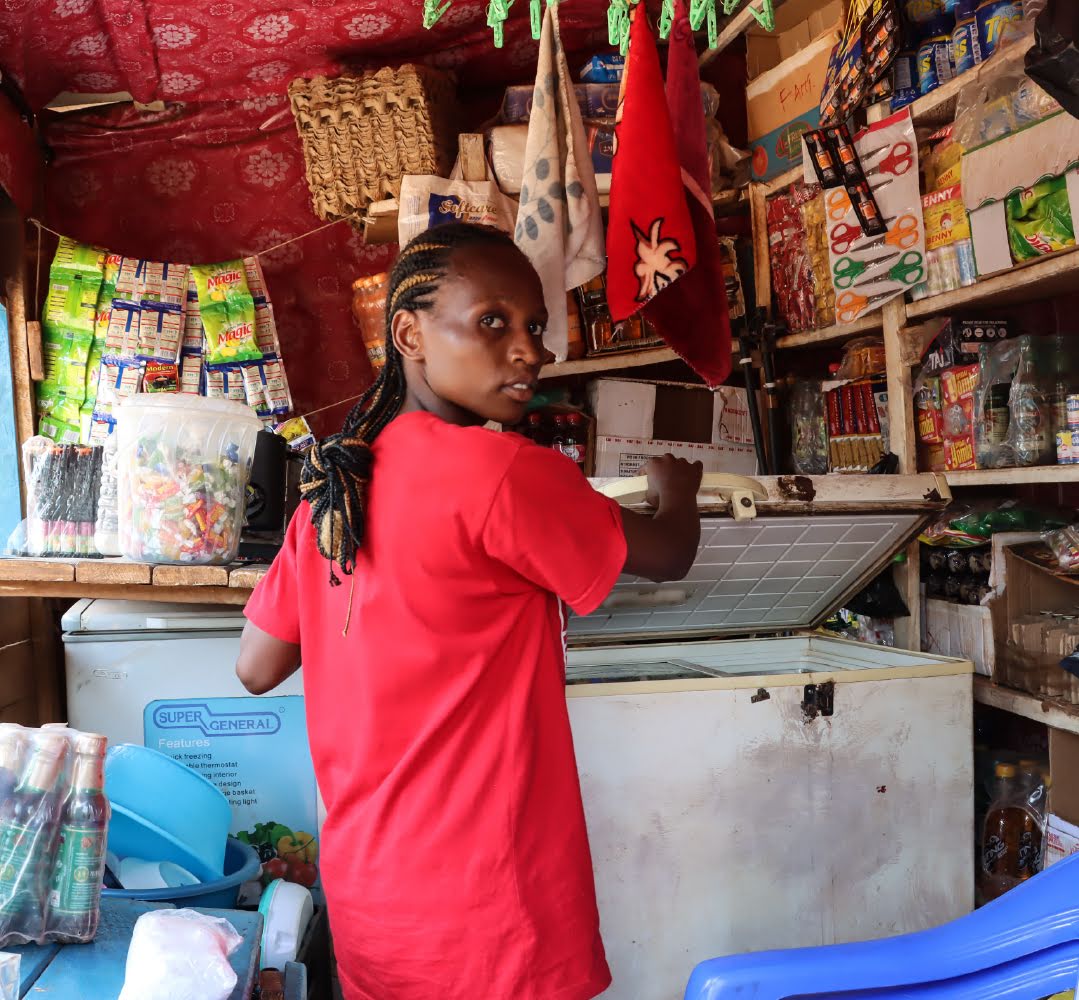 Our best and most successful products are the ones that open doors to participation, increase access to information, and contribute insight that drives new ideas. The Congo Power team continues not only to support the responsible minerals trade but to empower people to participate in the economy—especially people whose work has, for so long, directly propelled it.
"This isn't just a social exercise," Kasali says. "It's one that really does build opportunities."