Featured technology
Sustainable construction
Who we're helping
Our operations
The event industry
Our role
In partnership with Brandfuel and our internal events teams we're taking steps to make our events sustainable and zero waste
If you visit Google-hosted events like the Geo for Good Summit or Google booths at conferences like the European Geosciences Union (EGU) or Greentech Festival, you'll see materials that don't usually find their way onto conference floors—like wood from a Kentucky tobacco barn, rubber from Amsterdam's discarded bicycle tires, and metal from old military storage sheds.
"We want to upcycle materials and use them in new and unique ways because we don't want to build booths that end up in the trash after just a few days. Event displays should be sustainable and zero-waste, in the same way we aim for sustainability in Google offices around the world," said Dusty Reid, Marketing Event Program Manager for Google Earth. Dusty has been able to start this initiative with the help from Brandfuel, an creative events agency based in London.
Think about the hundreds of thousands of events going on around the world at any given moment, and the tons of signage, booths, flooring, printed handouts, and swag created to support them. A lot of what you see at events will be thrown away. And then there's the waste that you don't see, like the giant custom-built wood crates and plastic wrap that are used for transporting events materials and then tossed once the booths and displays are shipped.
We can change this. The Google Earth Outreach team is taking steps to make our events sustainable and zero waste, and they're working with Google event teams to share best practices so we can scale this out to even bigger events. We're experimenting with everything from recycled and recyclable cardboard materials, to moving blankets in place of plastic wrap and custom-built shipping crates. We're also rethinking the design of booths so they can be broken down and shipped in smaller packages and more easily reused. Rather than investing in event booths for single-use, we want to encourage other teams to use the booths or materials as many times as possible, so they can live as many lives as possible.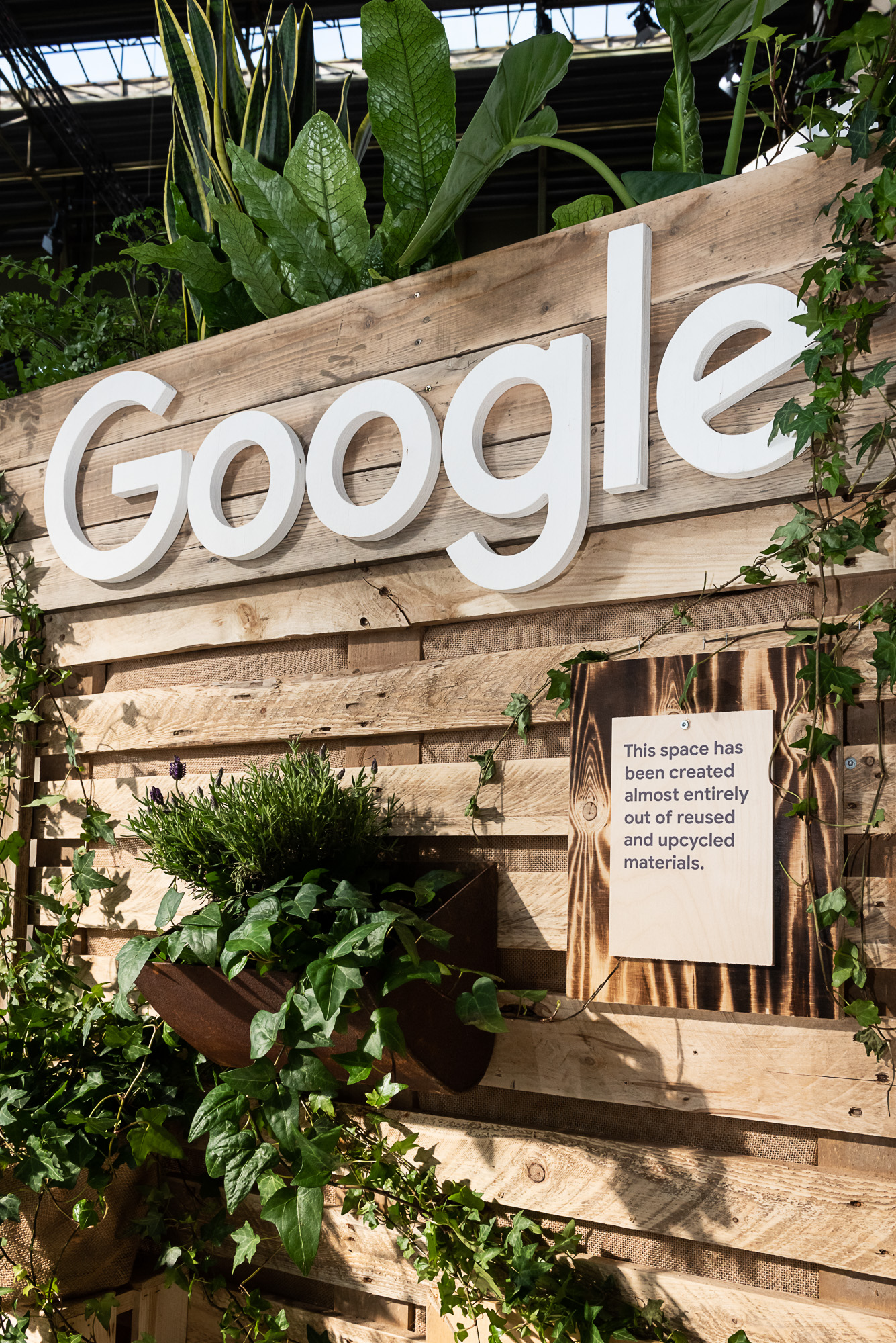 The booth that Brandfuel recently created for Google European events is a perfect example of a sustainable construction and we've already used it for three different conferences. The wood comes from shipping pallets that have been cleaned and sanded; the pots for the live plants positioned around the booth are made of tires from discarded bicycles. The booth flooring is made of old rubber tires; crates that decorate the booth walls come from fruit and vegetable distributors, or are made of wood from demolished houses.
While we haven't figured out how to make digital screens from reclaimed wood and recycled tires, they do play an important part in the booth's sustainability. By displaying Google branding and presentations on screen, we don't have to print out product flyers or create signage that will be thrown away.
Even though the booth is made of recycled materials, the design is thoughtful to make it look great. Event attendees love the way our booths look and have described them as welcoming and creative. As Brandfuel stated, "these booths are modular in a way that the same materials can be used for different-looking booths."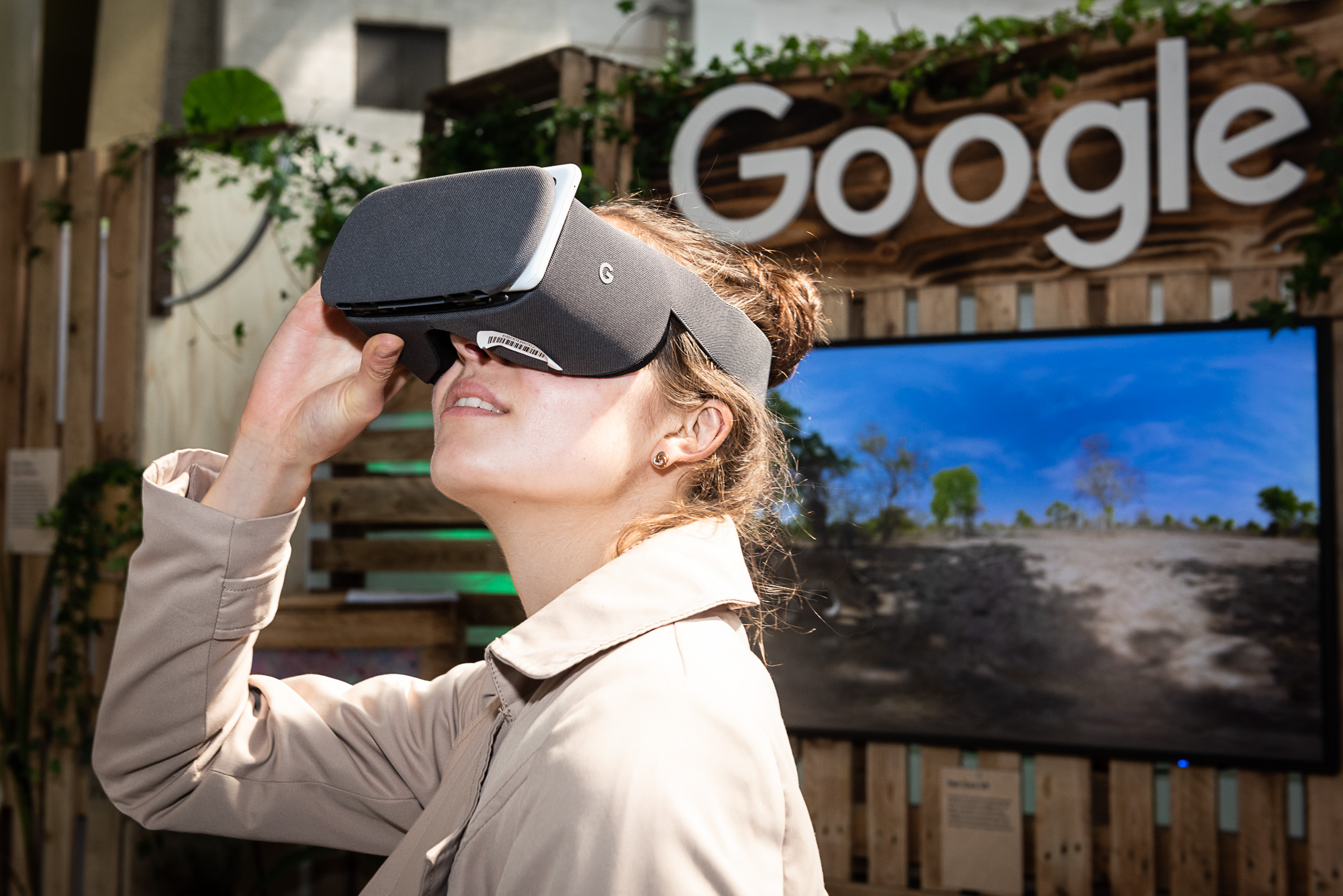 Brandfuel has been excited by the challenge of sourcing sustainable materials and brainstorming ways to generate as little waste as possible. "It's not just about one change, it's about looking at it over a long period and it takes someone like Google to encourage the rest of the industry to follow through," expressed Anna from Brandfuel, as they are already working hard to improve sustainability across all events, activations, and experiences for all of their clients.
We know that making events sustainable won't happen overnight. But we can start small with easy, cost-effective steps toward reducing and eliminating waste on the backend of events. As Dusty said himself, "if we're setting a goal to power Google's data centers sustainably, then why not set the same goal for our events?"