Featured technology
Augmented reality
Who we're helping
Our supply chain partners
Our role
In collaboration with StoryUp Studios, we developed four augmented reality experiences to bring some of our global supply chain stories to life
When it comes to supplier responsibility, we do our best to connect people to our products and services by sharing stories about the people from around the world who help make our business possible.
Through four augmented reality (AR) experiences developed in collaboration with StoryUP Studios, we are bringing some of Google's global supply chain stories directly to you to be more transparent about our supplier responsibility.
Once you download the portal app, you'll be able to open a virtual elevator and step into the Democratic Republic of Congo (DRC) with Journey of Gold, into China with Made by Me, into Thailand with Powered by Me, and into Amsterdam in our latest installment, Moved by Me. In each story, you'll be immersed in a different node of our supply chain. You'll meet the people behind our products, including those who make the equipment required for our data centers. You'll hear their stories and learn about the work we're doing to create a more equitable, inclusive supply chain.
To the DRC: Journey of Gold
Beyond banking and jewelry, gold can be found in many consumer and industrial products, including cell phones, health care equipment, and even airplanes. But have you ever stopped to ask where gold comes from? How it's bought and sold? Or who the people are behind the products?
In Journey of Gold, you'll explore Nyamurhale, an artisanal, conflict-free gold mine in the DRC, to find answers.
To China: Made by Me
Made by Me brings you to the factory of our supplier Flex in Zhuhai, China, where you'll walk in a worker's shoes for a day. You'll check out the surroundings on a factory floor, scan the faces of coworkers during an impromptu break-time concert, or simply focus on the person speaking.
You'll also hear directly from workers, who discuss wages, working conditions, product quality, favorite hobbies, and life aspirations.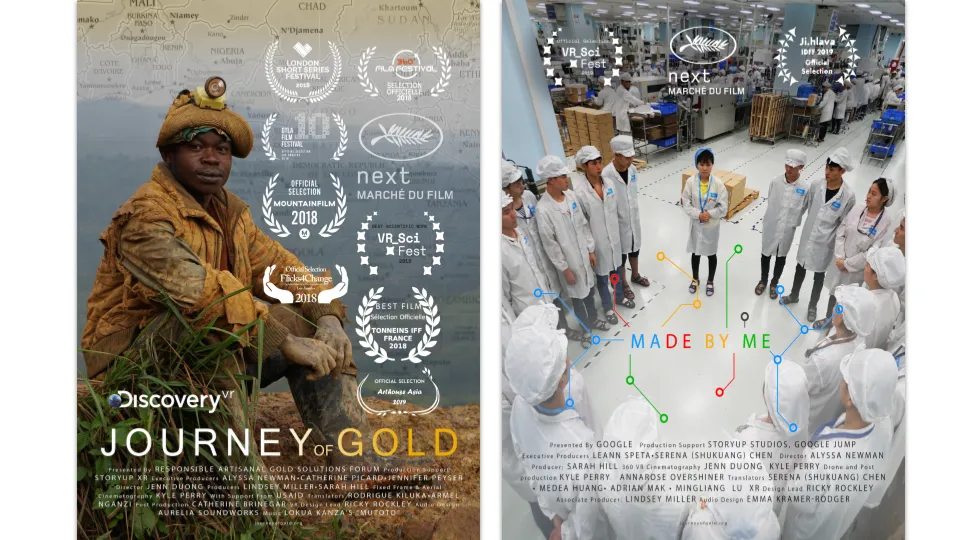 To Thailand: Powered by Me
In Powered by Me, you'll visit the factory of our supplier Delta Electronics in Bangkok, Thailand, where you'll learn about the equipment that powers our infrastructure and brings clean energy to the world. For a day, you'll also explore the lives of female workers, who make up the majority of Delta's workforce.
You'll sit with employees visiting schools to empower the next generation of leaders, fly over solar panels that provide critical renewable power to reduce climate change impacts, and discover why safety, diversity, and female empowerment are critical components of a responsible supply chain.
To Amsterdam: Moved by Me
In our Moved by Me VR experience, we bring you to a logistics hub of our supplier Syncreon in Amsterdam, Netherlands, where you will fly with a crane carefully sorting boxes for consolidation and distribution at data centers around the world, and you'll get a glimpse into risk areas like modern slavery. You'll learn more about some of the people that work to make Google's products and services possible for you to use.
You will travel through the canals of Amsterdam, and fly over a windmill that inspired Rembrandt. We hope you'll be inspired to learn more about the people working on different areas of a responsible supply chain.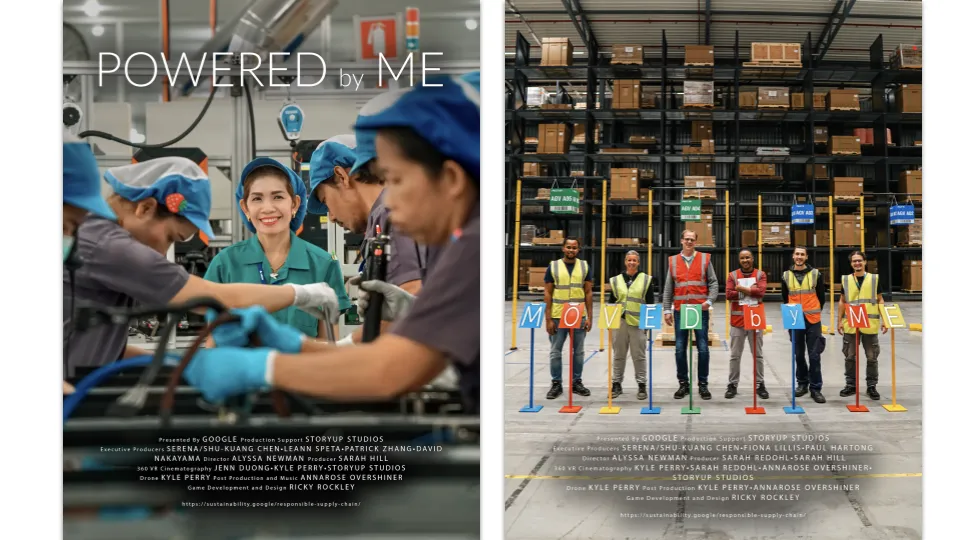 How to View these AR experiences
This series can be experienced even more immersively through virtual reality (VR) on our YouTube playlist (we recommend using a VR headset)—but for the AR version, no headset is needed. Just download the app on your Android or iOS mobile device, watch the elevator glide into your room, and transport yourself into the world of Google's responsible supply chain. To experience the app version, you do need to make sure you're on a good wifi network, or on a strong data network. If you're in an area with less accessibility, we recommend checking out the YouTube playlist above.
Because the AR experience fully layers a new world on top of your current surroundings, we have a few safety and logistical tips to share before you get started.
1. Make sure you're in a safe location. Wherever you choose to start your experience, it should be flat and free of obstacles and tripping hazards. Ideally, you'll have at least a 10-foot-square area of flat surface to walk around in, and open up your elevator. You also may want to choose a quiet location with minimal background disturbances so that you can better hear from the people you'll encounter. We recommend you have earbuds, or headphones, too.
2. Click the link on your smartphone. Begin your journey here (Android) or here (iOS). Make sure you are on wifi as the videos are streamed within the app.
3. Choose your experience. When the experience begins, walk through the elevator door and use the buttons at the bottom of your phone screen to select where you wish to travel first. This is a self-guided journey, and you can begin anywhere you prefer. The videos are shot in 360, so don't forget to pan your phone around the room! Here's a demo of what it will look like.
4. Exit the ecosystem. When you're done, walk back through the elevator to leave the story, or swipe up to "transport" back home and close the app.