Featured technology
Workplace standards
Who we're helping
Our operations
Our supply chain partners
Our role
Developed the Healthy Materials Program to increase transparency around building product composition and lead the market toward safer chemistry and healthier materials
Asking hard questions comes naturally to engineers, and especially so at Google, where curiosity is highly valued. So in the early days when our co-founder Larry Page started walking through our offices with a handheld particle counter to measure indoor air quality, the questions came fast.
What are we breathing? How's it affecting our health? Why's it in our offices? And how much do we know about the other contaminants that we're exposed to every single day in our buildings?
This curiosity was well founded. Many of the chemicals that go into common building products have been linked to cancer, endocrine disorders, fertility issues, neurological conditions, allergies, asthma, and more. These chemicals can also leach into our environment and persist for decades, devastating ecosystems and endangering the long-term health of surrounding communities.
Most of the time, we don't even know what we're exposed to. According to data compiled by the European Environment Agency, approximately 62% of the total volume of chemicals consumed in the European Union in 2016 were hazardous to people's health.1
The solution seems simple: Choose healthier materials to build healthier buildings. But if you don't have information to understand what's healthier, where do you start? The lack of transparency in the building products market and minimal research on their health impacts, means that most people simply don't have the data they need to make informed choices.
That's where our Healthy Materials Program comes into play. A natural extension of Google's mission to organize the world's information and make it universally accessible and useful, the program is intended to fill the information gap between common building materials and the safety of the chemicals used to make them.
More broadly, we hope to lead the market toward safer chemistry and healthier materials. We'll do this by leveraging industry building standards to increase transparency in the composition of building products and by continuing to use our purchasing power to signal to the market that material health is as important as budget and availability in the decision-making process.
"The world has spent the last 100 years not knowing what's in our building products" says Robin Bass, who leads the Sustainability Programs Team for Google's Real Estate and Workplace Services. "With science always evolving and new health-related issues continuing to emerge, we need a better, more transparent way to partner with manufacturers to understand their product chemistry and its impacts on people and the planet."
This year, we're rolling out a focused Healthy Materials Program that builds on our successes and the lessons we've learned along the way.
The bumpy road of progress
When we first set out to find answers to our materials questions, we thought it would be as simple as asking for information from manufacturers.
We soon found that most manufacturers had limited insight into the chemical content of their building products—and even less of a sense of whether those chemicals were safe for humans and the environment. In addition, their increasingly complex supply chains made it difficult to find out.
To start a movement toward healthy materials, we needed a more efficient way to engage manufacturers. We responded in 2016 with Portico, a first-of-its-kind building materials database and decision-making tool developed in partnership with the Healthy Building Network.
Portico was designed to streamline the data collection process and leverage industry standards for transparency and disclosure. Designers were able to enter the building products they wanted to use into the Portico database. If the product was already in Portico, existing records and a score for transparency and health were displayed along with a score for volatile organic compound emissions from off-gassing. If a product had not yet been logged, Portico sent a request for information to the manufacturer. Portico automated what had been an extremely time-intensive, people-powered effort, and we had high hopes that it would unlock healthier material options across the industry.
We put Portico in play for two years, but as we made the tool available to the broader marketplace, it became clear the market was moving beyond it. Other tools began to support industry standards like Health Product Declarations, Declare, and Cradle to Cradle. These standards had gained market traction, relieving the need to review complex chemistry letters from manufacturers.
Furthermore, we started to realize Portico's limitations. "The industry wasn't ready for automated questionnaires from Portico," says Sara Cederberg, manager of Google's Healthy Materials Program. "We needed to build trust and personal relationships first." Manufacturers and general contractors also needed more lead time than Portico provided, as high-pressure schedules often didn't leave adequate time to map their supply chains and the chemical content of their products.
Ultimately, Portico played a critical role in the evolution of our Healthy Materials Program, but it wasn't the silver bullet we had hoped for. Instead, our advocacy of healthier materials sparked a conversation about healthy materials across the industry and built momentum for industry standards and a diverse suite of tools and databases that will move the market forward.
"This is how innovation happens sometimes," Bass says. "You disrupt the status quo and give the industry time to catch up. Then you figure out new ways forward."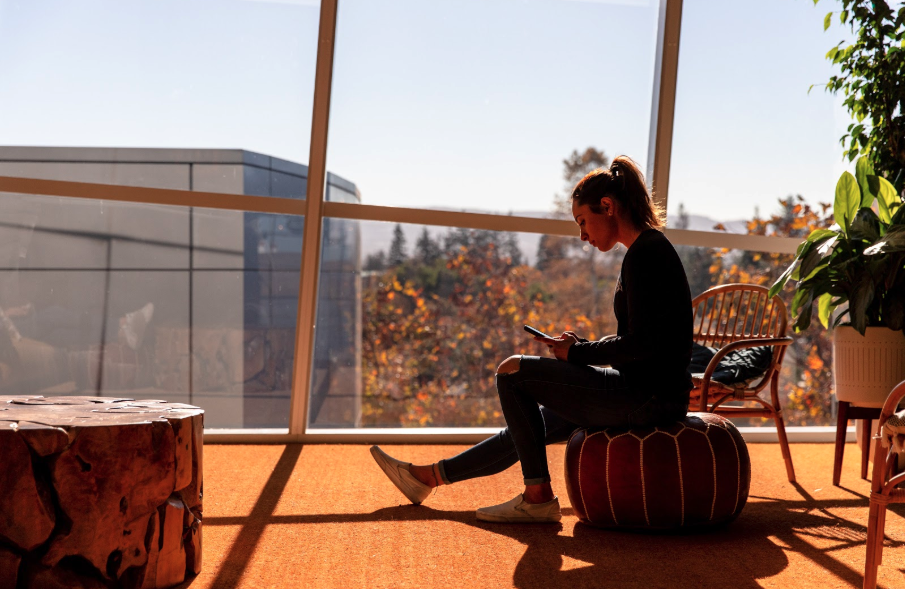 Moving forward by focusing our efforts Rather than tinker with the technology of Portico, we hit the pause button in 2018. "We needed to sort out what we had learned and determine how could we apply the best of Portico to take our work to the next level," Bass says.
We approached the challenge with humility. The truth is, this is hard work. It requires changing long-held processes, systems, and behaviors. The best way to generate lasting momentum is to take things one step at a time.
Led by Cederberg, our new program has a focused scope that capitalizes on the library of healthy building products that Portico helped us develop. We're prioritizing the categories we believe are most important based on the building products that are closest to our employees, the ones that are specified across most Google projects, and the ones proven to deliver better health outcomes across a product's life cycle. This largely consists of products in the interior built environment, such as paint, carpet, resilient flooring, ceiling tile, insulation, and gypsum board.
As we make progress on these building products, we'll target new ones.
With a new reporting requirement for Google projects to disclose costs and quantity of materials used, we're making a more concerted effort to track where we're having an impact. Using this information, we can think about setting future targets, allowing us to communicate back to the market that Google is putting our money where our mouth is.
We're also integrating the Healthy Materials Program more fully into the entire building project process. We're streamlining our approach to make sure healthy materials are specified in the design phase, purchased during the construction phase, and monitored to ensure that they're performing as expected during operation.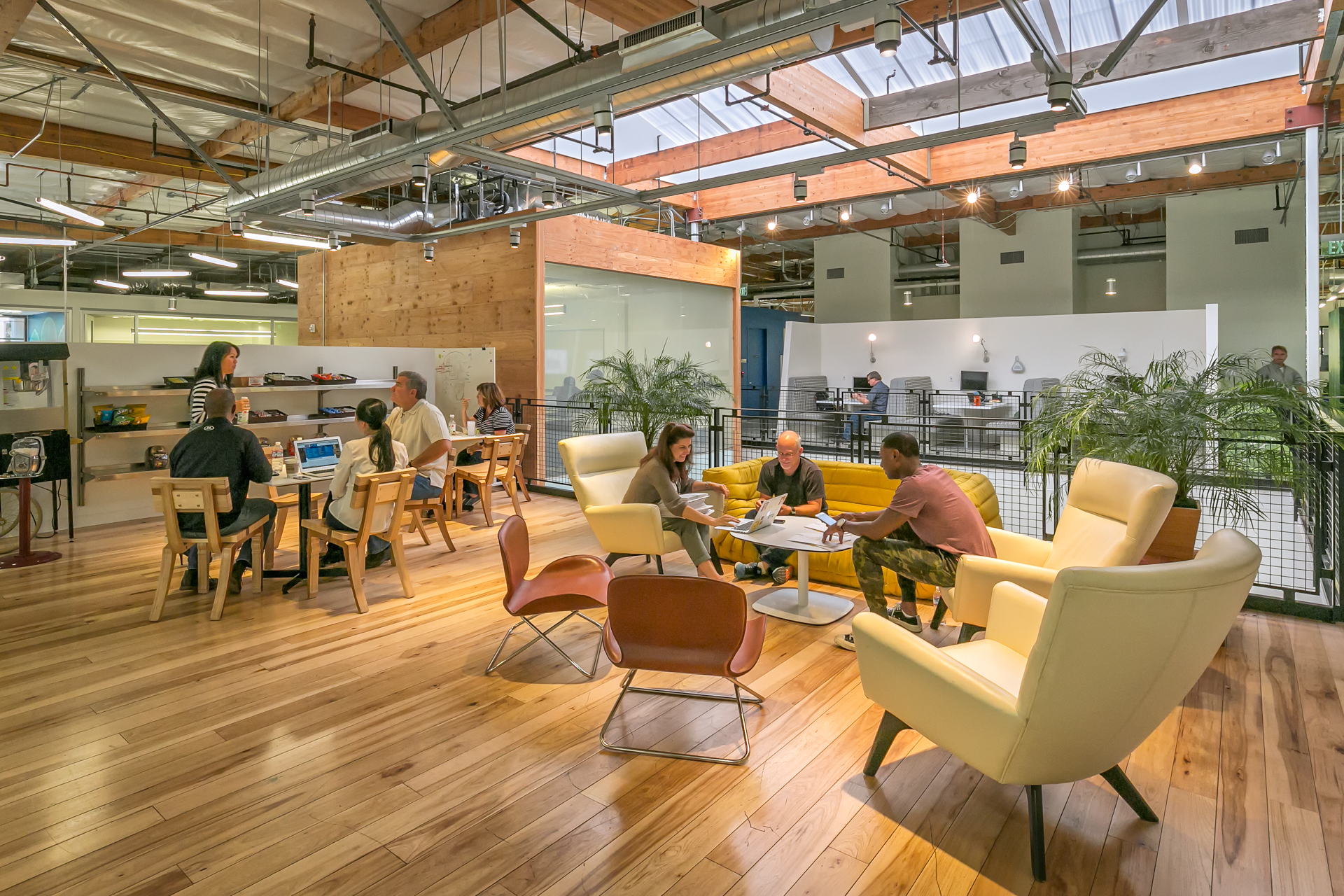 This new approach comes at a time when Google is tackling bigger, more ambitious building projects around the world. This includes our soon-to-be-completed Charleston East complex in Mountain View, California. When finished, it will be the largest facility ever to receive the Living Building Challenge (LBC) Materials Petal certification, signifying that every building product on-site has been vetted against the LBC's Red List of worst-in-class chemicals that pose human and environmental health concerns.
To amplify our work, we'll share information about the building product categories, manufacturers, and standards that Google is leveraging to build healthier facilities as our approach evolves. Our goal is to continue to use what we've learned so far and where we're headed to inspire other companies that are developing their own healthy materials programs.
Ultimately, we believe safer chemistry and healthier materials are fundamental to sustainable development and creating a broader circular economy that's consistently regenerative and restorative. Because we can't easily change the chemistry of products once we put them out in the world, ensuring that they're safe for people and the planet is fundamental to putting materials to their highest and best use.
People often want to know how to learn more about this work. "Public-facing resources like the Healthy Building Network's HomeFree site are a great starting point, as they analyze common chemical concerns of a range of building materials and rank them from least to most hazardous in a user-friendly way," Cederberg says.
As we move forward, we invite everyone—consumers, project owners, contractors, architects, and manufacturers—to join the movement for safe chemistry and healthy materials.
"For healthy materials to be on every shelf in every hardware store in every corner of the world, we need thousands of companies doing this with us," Bass says. "The more people that demand healthier materials, the more we move the needle."
1 "Consumption of Hazardous Chemicals," European Environment Agency, November 29, 2018, https://www.eea.europa.eu/airs/2018/environment-and-health/production-of-hazardous-chemicals.