Featured technology
LeanPath
Who we're helping
Our operations
Our supply chain
Local communities
Our role
Led an initiative to reduce food waste in our cafes, leveraging data from LeanPath to help staff make decisions around food processing and preparation
The production and distribution of food accounts for 10% of the U.S. energy budget and uses 50% of the nation's land and 80% of its fresh water. Yet the Natural Resources Defense Council estimates that 40% of food grown and produced in the U.S. each year goes uneaten, in large part due to stores and restaurants, which discard, or refuse to buy, fruit and vegetables with natural flaws that have zero impact on the produce's taste or nutritional value.
Google's first executive chef, Charlie Ayers, joined the company in 1999 as employee #53. During his time overseeing our company's Mountain View kitchens and cafés, he set a precedent for offering innovative, sustainable, and healthy food. Today, our food program feeds employees in more than 200 cafés and 1,000 self-service kitchens across the globe, while fine-tuning every step in the food service process, from procurement to prep to plate to disposal, in support of the company's sustainability goals. "People are starving not because we don't have enough food," Larry Page has said, "but because we're not organized around solving that problem."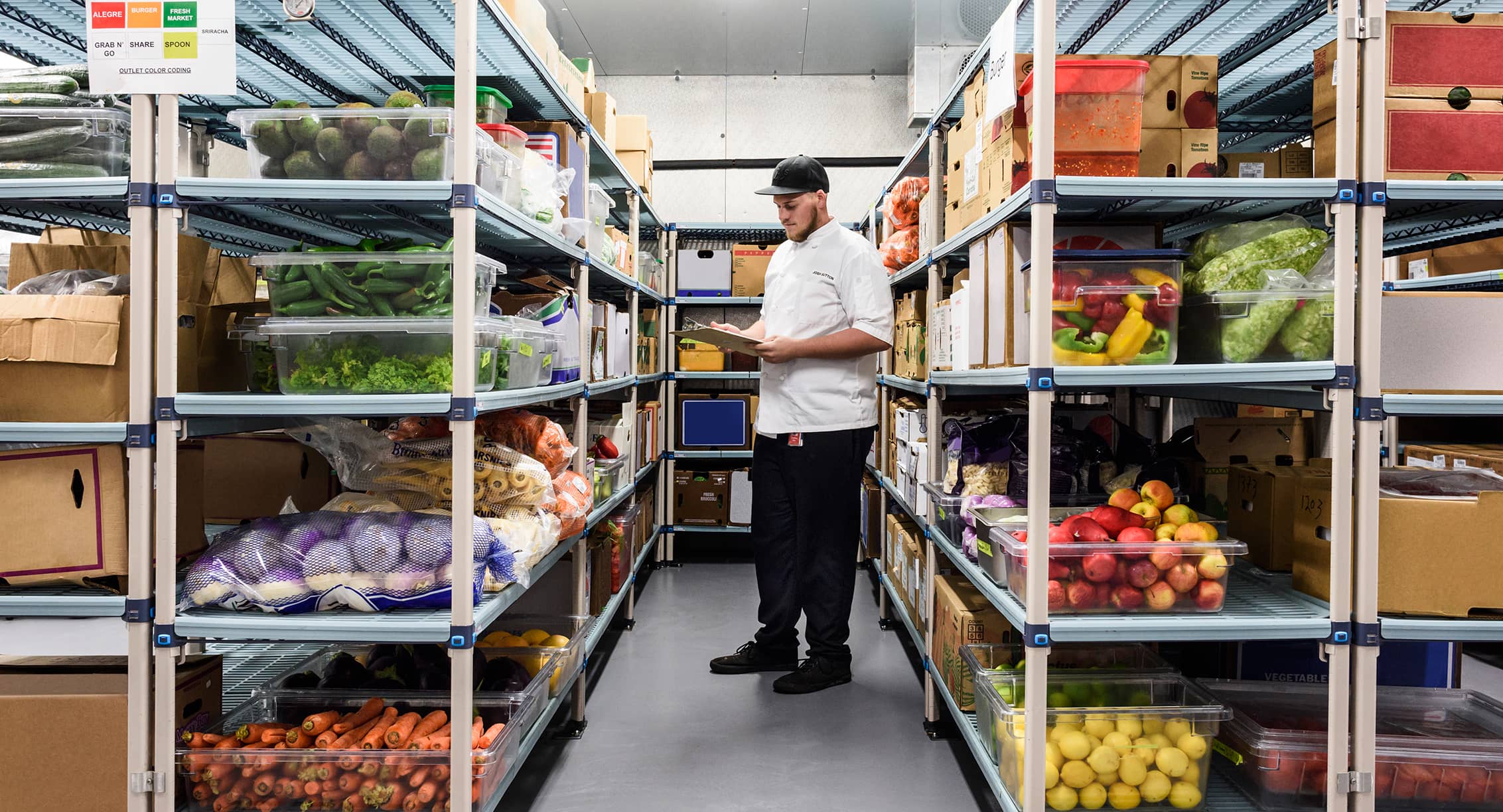 For Kristen Rainey, global program manager of Google Food, reducing food waste is a personal mission. And to a large degree, reducing food waste means reducing produce waste; Google menus rely heavily on fruit and vegetables, whose large quantities and short shelf life make them an even higher percentage of our kitchen waste. So when Rainey went looking for food savings, she settled on "ugly veggies" — fruit and vegetables that had been deemed unsuitable for sale due to cosmetic blemishes.
Specifically, she sought out vendors who could sell Google products that might otherwise rot in the field, and when she found some, Google started buying ugly produce. Since then, our Bay Area cafés have used more than 300,000 pounds of imperfect fruit and vegetables. Ugly produce, it turns out, is a win-win-win proposition: Google gets food at a discount, it rescues inventory that otherwise would go to waste, and the blemishes become unnoticeable once the produce has been turned into a meal.
In 2015, Google cafés in the Bay Area saved 440,540 pounds of food from going to waste. So far in 2016, that figure is more than 1 million pounds, and the number is rising.
A fourth win might be the program's impact on the broader community. "The Google Food program certainly didn't invent the concept of imperfect produce; some of our food service partners were already buying various #2 vegetables for back-of-the-house use," Rainey says. "What we've done is elevate awareness and encourage our partners to purchase more of it."
Rainey's team also studies how Google's cafe staff make decisions around food processing and preparation in order to improve their practices. For this Rainey enlisted LeanPath, an Oregon-based program that uses technology to generate hard data around food wastage. Since 2014, LeanPath's mechanized scales have been measuring kitchen-prep food waste in 100 Google cafés and kitchens around the world. For example, a cook preparing an entrée of roasted carrots can use LeanPath scales to measure the waste and cost associated with chopping and otherwise preparing those vegetables. Later on, LeanPath can also measure how much food was prepared compared with how much was actually eaten. LeanPath data also helps inform production levels. "If we know we're overproducing for one station in a certain café," Rainey says, "next week we can cut back on the ingredients we buy for that station."

The program has had a big impact. In 2015, Google cafés in the Bay Area saved 440,540 pounds of food from going to waste, through a combination of using less, repurposing leftovers, and donating unused inventory. So far in 2016, that figure is more than 1 million pounds of food, and the number is still rising, as the 100-plus Google cafés using LeanPath continue to improve, more cafés join the system, and Rainey's team applies lessons learned — like using shallow salad bar pans or closing down duplicate stations at the end of lunch when things get slow — as widely as possible.
But the company still faces the challenge of meeting both our goal of minimal waste and employees' desire for on-demand meals and snacks. "Occasionally we do run out of certain items at the end of service," Rainey says. "If we never ran out of food, it would mean we were overproducing and ending up with significantly more waste." Figuring out how to strike that perfect balance, our food service team hopes to bring Google one big step (and one good meal) closer to our overall sustainability goals.
Further Reading
September, 2016

Trimming our waste-line: the moonshot to zero

Learn more

LeanPath website

Learn more