Featured technology
Virtual reality
Who we're helping
Congolese communities
Our role
Partnered with Responsible Artisinal Gold Solutions Forum and StoryUp XR to create a VR film highlighting the importance and benefits of responsible sourcing
From halfway across the world, it can be difficult for consumers to imagine the mud, heat, and extreme conditions that miners in the Democratic Republic of Congo (DRC) face as they extract the precious minerals that go into everyday products like cars, medical devices, and electronics. In a new virtual reality (VR) project, we're helping viewers around the globe step into that experience as part of our ongoing awareness efforts around mineral supply chains.
We began our Conflict Minerals program in 2012 to improve the transparency in tin, tantalum, tungsten, and gold (known as 3TG) mining and to develop conflict-free sources of these materials. From the beginning, our strategy has been to work collaboratively with governmental and nongovernmental organizations (NGOs) across the electronics industry and others to enable conflict-free sourcing for everyone.
To highlight the importance and benefits of responsible sourcing, we partnered with the Responsible Artisanal Gold Solutions Forum and StoryUp XR to create Journey of Gold, now available on YouTube.
Filmed using Jump cameras, the VR film offers a glimpse into the lives and conditions of those working at a low-tech, small-scale gold mine in Nyamurhale—one of just three conflict-free artisanal gold mines in the DRC.
"The real power of VR is that it's a teleportation device," says Alyssa Newman, who produced Journey of Gold and is Google's program manager of Conflict Minerals. "For those who might never have the chance to go to the DRC in person, we can take you there."
As a member of the Responsible Minerals Initiative and the Responsible Artisanal Gold Solutions Forum, Google understands the tensions within and surrounding the gold trade, and we're taking a variety of steps to help in the fight against conflict minerals. We believe that the best way to ensure that the gold in our own supply chain is exclusively conflict-free is to work with others to get broad participation and commitment from electronics, jewelry, auto, and other supplier partners that use gold in their products.
By prompting discussions about our collective responsibility, Journey of Gold and other projects like it have the potential to build more urgency in both suppliers and consumers toward creating a world free of conflict minerals.
Changing the paradigm
Of the 3TG metals, gold is one of the most challenging to source responsibly in the Congo and the surrounding region, due to high rates of illegal mining and smuggling. As part of Google's conflict minerals program, we partner with governmental organizations, industry groups, and NGOs to aid conflict-free sourcing.
Until 2012, the mining site at Nyamurhale was occupied by armed groups resistant to responsible supply chains. But through the efforts of the Bwenge Buchiza pilot project, the site saw dramatic changes.
Funded by the U.S. Agency for International Development (USAID) and implemented by Tetra Tech, the pilot program at Nyamurhale helped the government of the DRC and a mining cooperative establish and implement traceability and due diligence systems. By May 2017, Nyamurhale was validated by a joint qualification team as a legal producer of gold.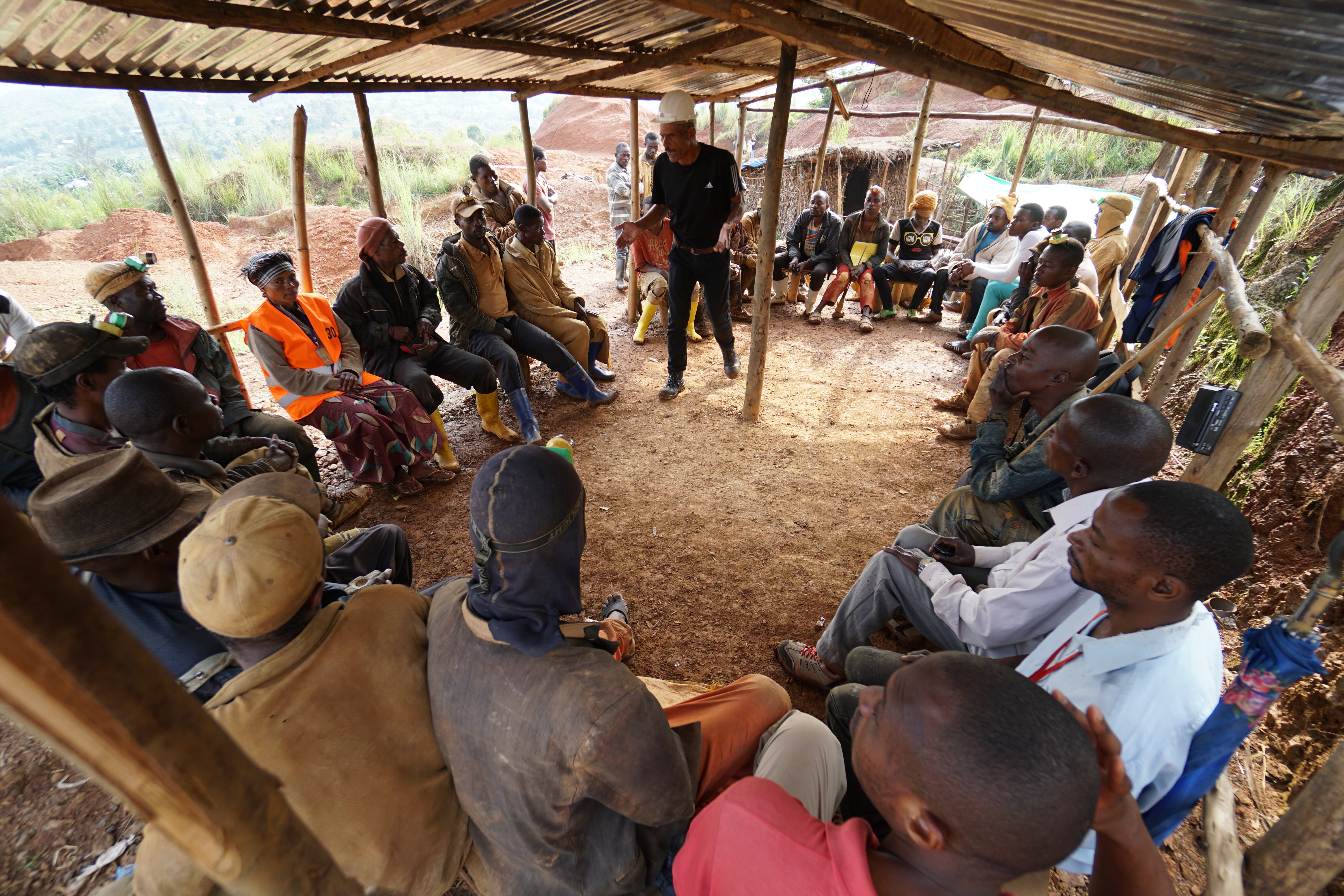 Of course, transforming every mine into a responsible one will be difficult—the opposing forces are immense. But Nyamurhale is demonstrating a better way forward, and Journey of Gold is helping to spread the message.
Transparency and accountability
We know that, ultimately, responsible sourcing will take more than awareness. It will require broad, multi-industry commitments and collaboration to ensure that conflict minerals are mined responsibly.
Our progress has been measurable. In 2013, Google identified 38 gold smelters in our supply chain that had been recognized by a third party as "conformant" or conflict-free. In 2017, this number grew to 102, with an additional 6 gold smelters in the process of becoming conformant. For more information, see Alphabet Inc.'s 2017 Conflict Minerals Report.
We hope the opportunity to experience the DRC through VR will continue to catalyze the movement. The Journey of Gold launch campaign includes shareable links to video, social media hashtags such as #knowyourgold, and prompts intended to promote dialogue about mining and help people keep companies—including Google—honest about their roles in the vast gold supply chain.
"We're not making VR experiences because anybody's asked us," Newman says. "We're doing it because we see problems that seem intractable and insurmountable. But we're trying to look at the problem differently, to figure out new ways that we can work not only within our resources but also with others, including suppliers and even competitors, to address the problems."