Positive energy: Belgian site becomes first Google data center to add on-site solar
Featured technology
Solar energy
Data centers
Who we're helping
Our operations
Our role
Built a solar facility on our data center site in Saint-Ghislain, Belgium
What do you do when your data center is devoted to increasing energy efficiency, but it's already one of the most energy efficient in the world? Start creating your own energy, of course.
This was the conclusion reached by Google data center engineers in Saint-Ghislain, Belgium, who in 2016 were brainstorming ways to reduce carbon dioxide emissions as part of a voluntary agreement with the Belgian government.
"Every year we submit energy-efficiency projects, but we were already highly efficient," says Alain Deprez, facility manager for the Saint-Ghislain site, which opened in 2009. "We cool our servers without using mechanical chillers, we light our buildings with motion-controlled LED lighting, and we don't start equipment until it's absolutely necessary to do so. So we had to look for other ways to reduce our energy impact."
Deprez and his engineers decided to address the site's energy source, proposing a 2.8 megawatt solar plant that replaces a percentage of the grid energy used by the data center campus each year with on-site renewable power. Launched in October 2017, the plant's 10,665 ground-mounted photovoltaic solar panels reduce demand on the Belgian grid and cut carbon dioxide emissions, helping meet the objectives of the voluntary agreement while building momentum for renewable energy in the region.
The project was a first for Google. While we're already the world's largest corporate purchaser of renewable energy—in 2017, we matched 100% of electricity use from our operations with renewable energy purchases—the Saint-Ghislain solar plant is the first solar facility we've built on a data center site.
Taking initiative for efficiency
We've long pursued aggressive efficiency initiatives in our data centers. Through tools and technologies such as advanced cooling systems, smart temperature controls, and machine learning, we've reduced the average annual power usage effectiveness (PUE) of our global data center fleet to 1.11, compared with the industry average of 1.7.1 This means that our data centers use an average of nearly six times less overhead energy—for things like lighting, cooling, and power distribution—than typical data centers use.
In 2017, our Saint-Ghislain data center had an average PUE of 1.09—one of the best in Google's fleet. The site achieved this via a number of innovations that use energy and resources more efficiently. Like most of our data centers, this site uses water evaporation to cool our servers. However, rather than using potable water in the cooling towers, the site draws grey water from a nearby industrial canal and treats it on-site before use. This cooling system helped the Saint-Ghislain site become the first Google data center worldwide to run entirely without energy-intensive mechanical chillers. Recently, the site also started injecting carbon dioxide into the cooling tower water to control the pH level. This enables the data center to reuse cooling water up to four times instead of just twice before it's discharged.
These efforts have not gone unnoticed. In 2018, the European Commission recognized our Saint-Ghislain data center with an EU Code of Conduct for Energy Efficiency in Data Centers Award as a top performer over the last ten years in the large data center category.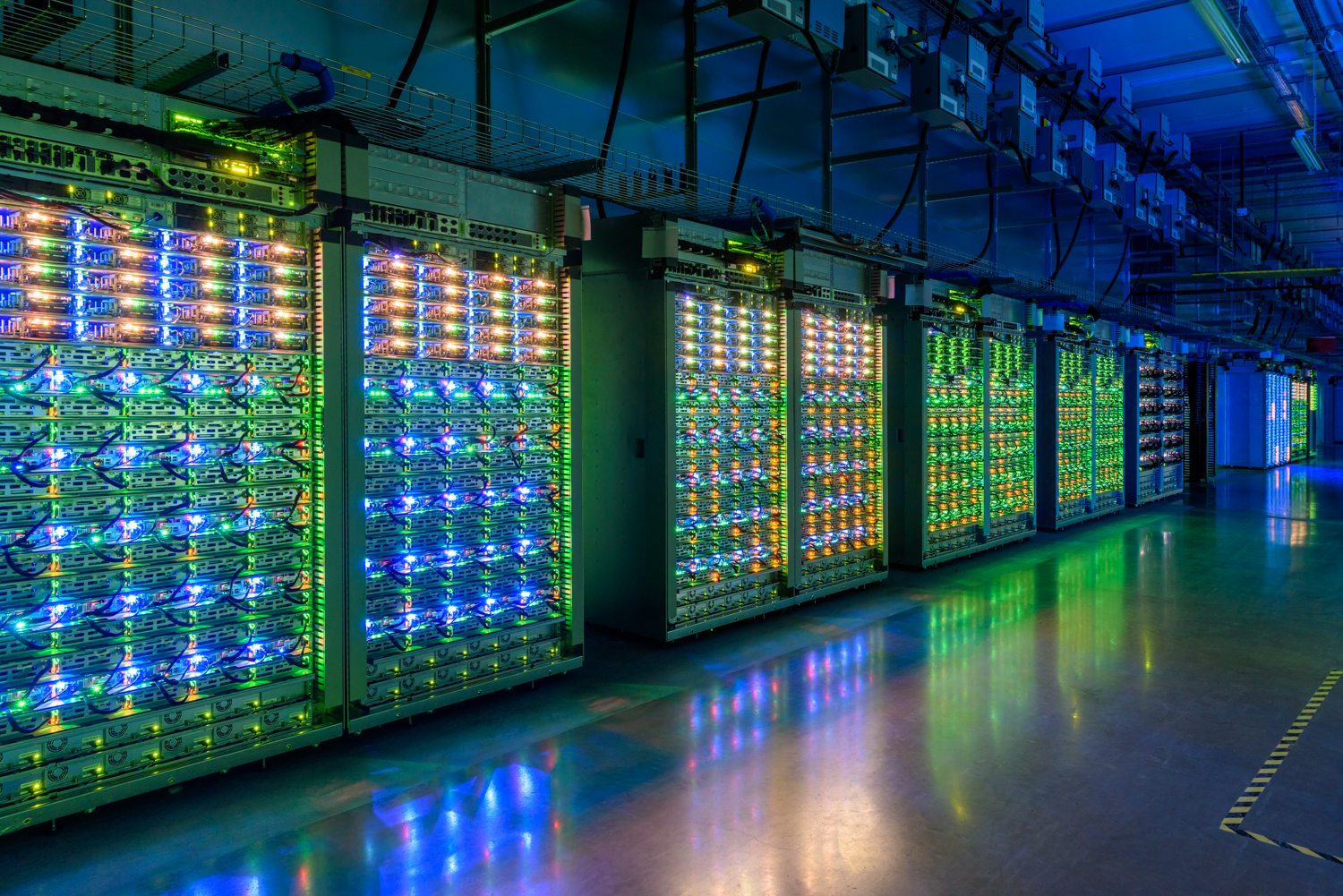 While our Saint-Ghislain data center has a long history of sustainability, building an on-site renewable energy project was something altogether different. Despite reaching 100% renewable energy Google-wide, we hadn't previously pursued on-site installations at our data centers for a variety of reasons.
First, the optimal location for a data center is not necessarily the optimal spot to generate wind or solar power. Second, for a solar or wind project to be large enough to power a data center, it would require huge swaths of land, which are rarely available near our data center sites. Third, renewable energy sources don't provide steady power 24 hours a day, whereas our data centers run nonstop. Even if a nearby renewable project produced enough power for a data center, we'd still have to remain connected to the electrical grid to provide our customers with reliable, 24/7 service.
Therefore, to meet our 100% renewable energy goal, we rely primarily on power purchase agreements (PPAs)—large-scale, long-term contracts to buy renewable energy directly from producers of new wind and solar farms.
But in advocating for the solar project, Saint-Ghislain engineers promoted the role that small-scale renewable projects can play in reducing our environmental impact in the communities where we operate. Even though the solar farm meets a relatively small percentage of the site's power needs, it still reduces demand from the local electrical grid. It's able to generate enough electricity annually to power the facility's water treatment plant, lowering the site's energy demand and its carbon footprint.
"We take our role as citizens of Belgium seriously, and we want to do our part," says Deprez. "Anything we can do to reduce our consumption of utility energy is significant."
Proponents also worked hard to ensure that the €3 million project—roughly equivalent to US$3.7 million—made financial sense and offered a reasonable return on investment.
"It was an interesting project in that this was really homegrown," says Andrew Hyland, public policy and government relations manager for Google's European data centers. "The folks at Saint-Ghislain fought hard for this at the local level because they saw something in this project. And they pushed and pushed until it became a reality."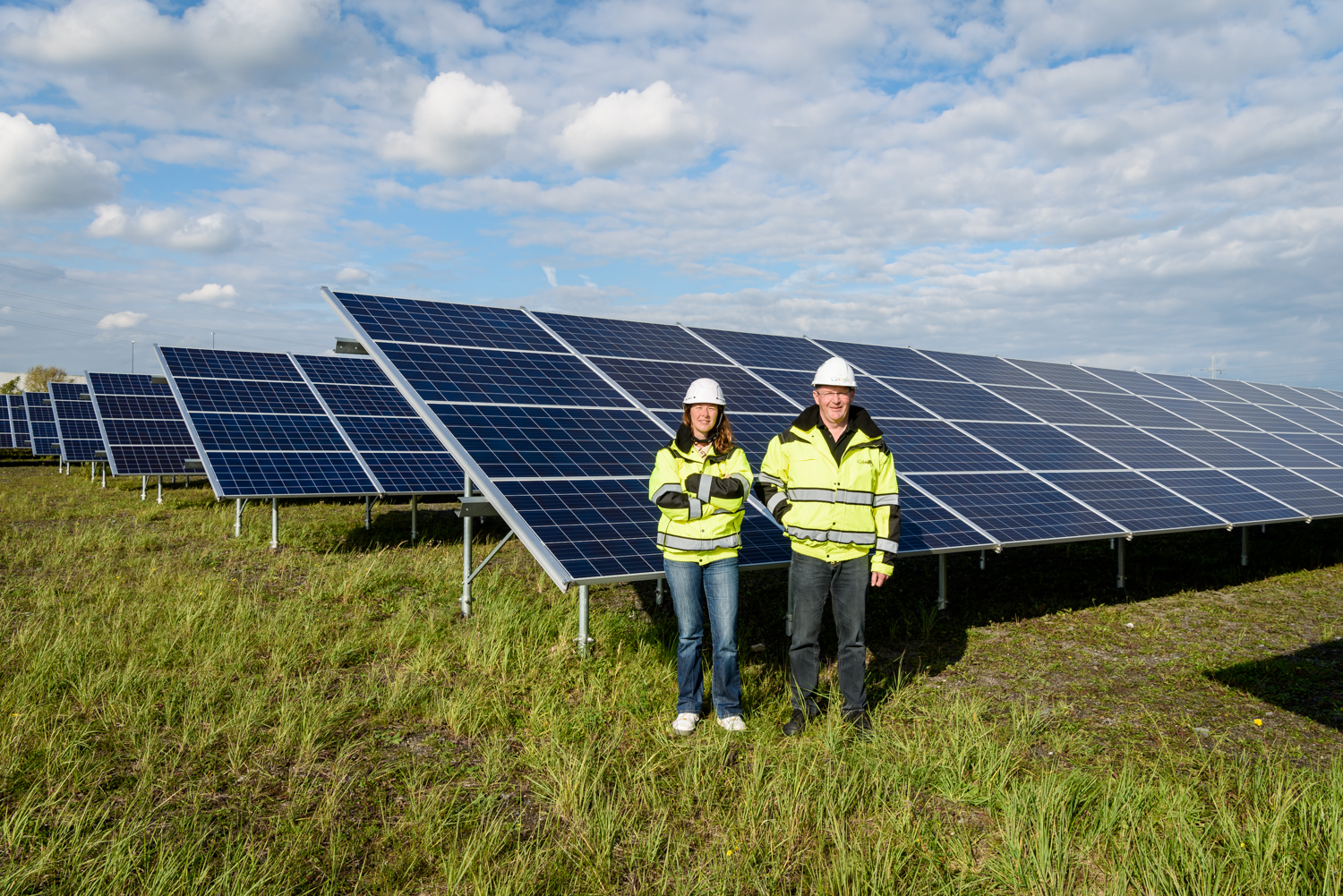 Building local momentum for renewables
An interesting byproduct of projects like the Saint-Ghislain solar plant is the momentum they can generate within the community.
"We originally thought this would be a fairly small production," Hyland says. "But just before it opened, we realized the plant is comparatively bigger than we thought. In fact, it's one of the three largest solar facilities in the Walloon region of Belgium. It's a big deal to the community, because we're not just investing in the data center but also in a cutting-edge solar farm."
Projects like these put Saint-Ghislain and Belgium as a whole on the map as digital front-runners—regions whose digital expertise and environmental infrastructure make them attractive to other large tech investors.
The solar site is also a visible example of Google's commitment to renewable energy. "You see the solar panels as soon as you start approaching our facility," Deprez says. "It's more tangible than an offshore wind farm in the North Sea, which few people have the opportunity to see and which isn't obviously connected to Google. While the on-site solar plant is relatively small for Google, it makes it easier for people to know we practice what we preach."
This, in turn, creates more interest in renewable energy among local leaders and community members. Hyland cites a wind farm in the Netherlands that Google announced two years before it became operational. "I revisited the community once the farm opened," he says. "And in those two years, local leaders had grown much more interested in helping consumers generate renewable power of their own. It sparked local interest, and grant applications for renewable projects increased."
The Saint-Ghislain project is still new, so it's too early to say if the local community will respond similarly. But the team in Belgium is optimistic.
The solar project also reveals the potential for tech companies to shape our energy future by insisting there's a better way.
"The digital economy goes hand in hand with the rapid movement towards renewable energy," says Fabien Vieau, principal of European energy market development at Google. "Our clean energy policies are a clear example of that. We helped pioneer new corporate purchasing structures for renewable energy. We just installed a solar plant at a data center site. We keep making leaps by asking what more we can do.
"For Google, the big question is, What's next?"
1 According to the Uptime Institute's 2014 Data Center Industry Survey, the global average PUE of respondents' largest data centers was approximately 1.7.