Reducing Waste and Empowering Students: How an Oklahoma school is breathing new life into Chromebooks
Featured technology
Chromebook Repair Program, Chromebooks
Who we're helping
Schools and school districts
Our role
Provide schools with self-repair resources from Chromebook manufacturers and guides to launch in-house repair programs
As thousands of students return to Jenks Public Schools in South Tulsa, Oklahoma after summer break, one of the first stops for many will be the school district's technology center. There, a group of some 20 students is working alongside full-time IT staff, handing out new computers, troubleshooting tech issues, replacing lost chargers - and accepting Chromebooks in need of repair.
The school district's innovative Technology Student Intern (TSI) program, launched during the 2014/2015 school year, has proven to be a success, keeping broken laptops out of landfills while providing students with valuable training for future technology careers.
"We are the one-stop shop for technology assistance, and our students can disassemble an entire Chromebook and put it back in working order - all while building out their customer service and leadership skills," said Dawn Sponsler, the teacher in charge of the TSI program.
Under the leadership of Sponsler and a teaching assistant, the students ensure the smooth operation of the school district's roughly 20,000 Chromebooks, which face the added strain of daily school use and being toted back and forth between school and students' and teachers' homes.
As class work increasingly shifted online during the pandemic, 90% of US middle and high schools began providing personalized laptops for students, according to a 2021 Education Week survey. Many schools turn to Chromebooks for their total cost of ownership and ease of repair, with 50 million students and teachers using Chromebooks made by Google's manufacturing partners. Newer Chromebooks, built with sustainability in mind, offer automatic updates to keep them running fast and secure. At Jenks Public Schools, nearly all of the school district's 12,700 students and 1,700 employees have their own Chromebooks. Students in grades three through six have their own device that remains in the classroom after school, while those from seventh to twelfth grade take their Chromebooks home each day.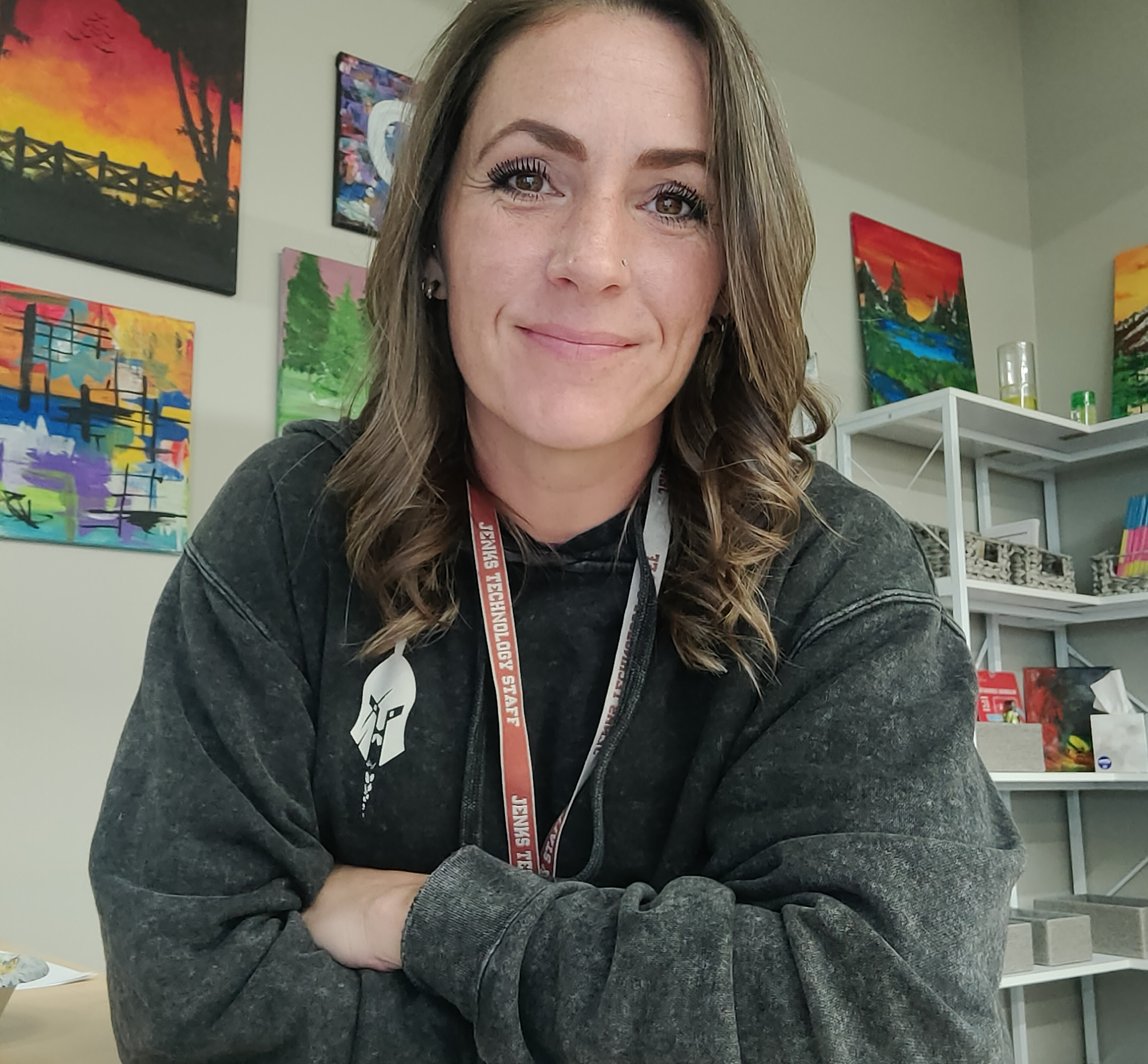 With Google's Chromebook Repair Program, schools and IT leaders now have access to self-repair resources from Chromebook manufacturers and guides to launch their own in-house repair programs. Key parts like the screen, battery and webcam can be replaced without needing to replace the entire laptop. So far, the results have been positive. A recent 2023 Google survey showed that school districts are taking advantage of Chromebook repairability, with more than 80% of surveyed US schools repairing at least some of their devices in-house.
While Jenks is far from the only school district repairing its devices, it has found an innovative solution to tackling IT staff shortages that plague many other schools and prevent them from completing large-scale repairs in-house.
Repairing hundreds of Chromebooks each month, the TSI group prides itself on running the program like a customer service business, with the students taking responsibility for administrative tasks, customer inquiries and repairs. On any given day, fellow students, teachers, parents, and grandparents from the district's nine schools show up at the newly constructed technology center, enlisting the help of the TSI students who select the program as an elective class.
One of the program's focus areas is the reuse of as many parts as possible from older devices, helping them minimize costs and e-waste. Students extend the laptops' lifespans by replacing broken screens, keyboards, and at times even mainboards with spare parts from other models.
"It's really not until the sixth or seventh year of the device that we consider total losses, and even then we pull whichever parts we can use for other Chromebooks," Sponsler said, adding that screens and keyboards in particular can be reused. School districts without in-house repair programs need to order a large pool of excess loaner laptops that can be handed to students if their laptop breaks, Sponsler said.
The TSI program's success has saved Jenks an estimated $1 million over the course of the entire program by reducing outside repair costs, limiting warranty expenses and reducing the total number of devices the school district needs to order, Sponsler said.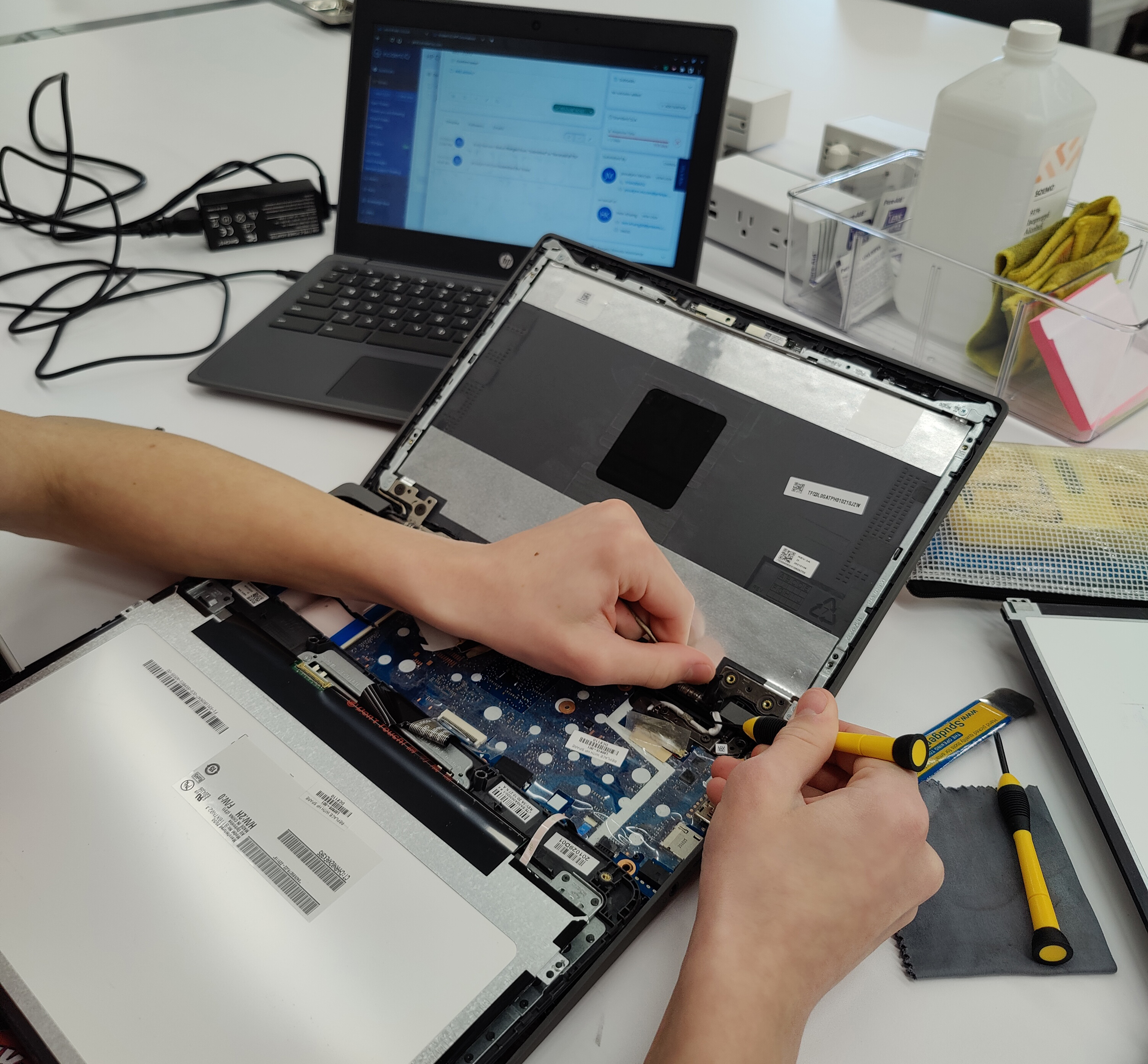 The program has attracted interest from other schools in Oklahoma and school districts as far away as California, who have asked to shadow the TSI program to learn from its success. "We are an open book and passionate about sharing the success we've had with others. Your program does not have to look exactly like ours, but we can show you what has helped us grow into what we are today, and hopefully it will benefit other schools in some way," Sponsler said.
For Sponsler, witnessing her students' growth and development is one of the best parts about the TSI program. Several former TSI students have gone on to careers in the IT sector, and Sponsler is keen to promote both the technical and life skills of her students. Even the Jenks Technology program has benefited directly from the talent, hiring two former TSI students who have returned to Jenks as full-time technicians on the technology staff.
"It's rewarding to see that the stuff that they are learning, whether it's front desk customer service skills or it's repair or troubleshooting things, it actually is helping them in their daily life too," she said.